50 Modern Melodic Scenes
– Available for Trumpet, Trombone, and French Horn –
Reviews:
"Jon Clark's new book gives us a large (50 of them!) collection of excellent studies to add to a daily practice regime. These full-page "Melodic Scenes" provide wonderful sight reading and endurance challenges. Both rhythmically and harmonically every page is full of unusual difficulties that will keep the player on their toes. I advise you to read Jon's introductory comments carefully as he outlines his "non-traditional" compositional style so you will know what to expect as you delve into these etudes. And what fantastic titles for each piece! It makes the book even more enjoyable. Congratulations, Jon, on a great new addition to our trumpet pedagogical material." Allan Dean-New York Brass Quintet, Yale University School of Music, Summit Brass, St. Louis Brass, and the Yale Brass Trio.
"If you are looking for an interesting approach in the next etude book you purchase, I would recommend Jon Clark's 50 Modern Melodic Scenes. These etudes are not your typically tonal etudes, and as such they will challenge many aspects of playing; hearing (and accurately playing) unexpected intervals, endurance, and of course technical challenges. They are also excellent for sight reading and transposition." Anthony Plog-Composer/Teacher.
"Jon Clark's 50 Modern Melodic Scenes is a valuable resource in exploring difficult intervals and tricky rhythms. Challenging but manageable, it's a fine collection of varied etudes for the advancing trumpeter." Ray Mase-American Brass Quintet (1973-2013), Chair of Brass-Julliard School.
"Wonderful pieces, which are challenging and interesting. I enjoyed the contrast and variety throughout. These pieces should be enjoyed by players not only for their technical aspects but also for their musicality." Joseph Turrin-Composer.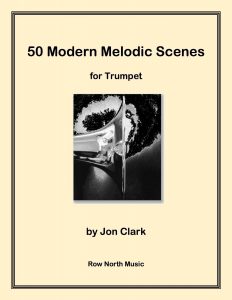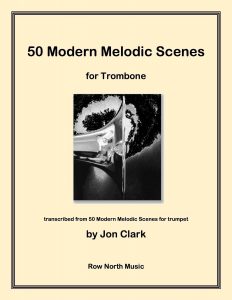 TROMBONE EDITION – $24.95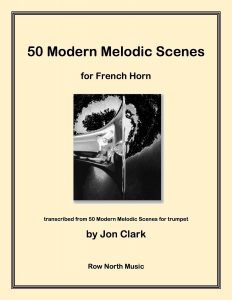 FRENCH HORN EDITION – $24.95