Brass Quartet Music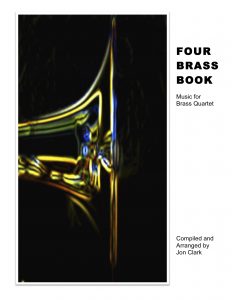 Table of Contents:
Trumpet Voluntary (Prince of Denmark's March)-Clarke
Aria-Kuhnau
Trumpet Tune (Purcell)-Purcell
The Heavens Declare (Psalm XIX)-Marcello
Voluntary (Stanley)-Stanley
Trumpet Tune (Fischer)-Fischer
Adagio (from Voluntary VI)-Bennett
Hornpipe (from "Water Music")-Handel
Air (from "Water Music")-Handel
Pachelbel Canon-Pachelbel
Prelude to Te Deum-Charpentier
March-Charpentier
Anglaise-Minuet-Hornpipe-Handel
Rhosymedre-Vaughan Williams
Chaconne-Purcell
Canzona (La Banchierina)-Banchieri
Intrada-Schein
Offertorium-Bruckner
If Ye Love Me-Tallis
Evening Prayer (from "Hansel & Gretel")-Humperdinck
March (from "Hercules")-Handel
Adagio (from Toccata No.11)-Muffat
Allegro (mvmt.II from sonata con tromba)-Corelli
Allegro Giusto-Zingarelli
"U" Fanfare (2017)-Clark
FOUR BRASS BOOK is a collection of pieces well suited for brass quartet ensembles. The selections include some of the most popular works often requested and performed in ceremonies, churches, or concert settings. One book has you covered! The complete set of books includes 1st Trumpet, 2nd Trumpet, French Horn, Trombone 1 (sub. for horn), Trombone 2.
Downloads
Brass quartet digital downloads for purchase in PDF format. Includes score and all parts: 1st Trpt.-2nd Trpt.-Horn-Trbn.1(sub.)-Trbn.2. Download links will be sent to your email.

Please note: Secure checkout powered by Chec. After your purchase, download links will expire in 2 days and the music can be downloaded only 1 time. Please respect all © copyright laws.

Adagio (from Voluntary VI)

– John Bennett (c.1735-1784) arr. Jon Clark
$3.50


Adagio (from Toccata No. 11)

– Georg Muffat (1653-1704) arr. Jon Clark
$3.50


Air (from "Water Music")

– G.F. Handel (1685-1759) arr. Jon Clark
$3.50


Allegro Guisto (from "Christus e miserere alla Palestrina")

– Nicola Antonio Zingarelli (1752-1837) arr. Jon Clark
$3.50


Allegro (mvmt. II from sonata con tromba)

– Arcangelo Corelli (1653-1713) arr. Jon Clark
$3.50


Anglaise, Minuet and Hornpipe

– G.F. Handel (1685-1759) arr. Jon Clark
$3.50


Aria

– Johann Kuhnau (1660-1722) arr. Jon Clark
$3.50

---

Ave Maria

– Tomas Luis de Victoria (1548-1611) arr. Jon Clark
$3.50

---

Canzona (La Banchierina)

– Adriano Banchieri (1568-1634) arr. Jon Clark
$3.50


Chaconne

– Henry Purcell (1659-1695) arr. Jon Clark
$3.50


Evening Prayer-Abendsegen (from "Hansel & Gretel")

– Engelbert Humperdinck (1854-1921) arr. Jon Clark
$3.50


Hear the Voice and Prayer

– Thomas Tallis (c.1550-1585) arr. Jon Clark
$3.50


Hornpipe (from "Water Music")

– G.F. Handel (1685-1759) arr. Jon Clark
$3.50

I
f ye love me

– Thomas Tallis (c.1505-1585) arr. Jon Clark
$3.50


Intrada

– Johann Hermann Schein (1586-1630) arr. Jon Clark
$3.50


March (from "Hercules")

– G.F. Handel (1685-1759) arr. Jon Clark
$3.50


March

– Marc-Antoine Charpentier (1643-1704) arr. Jon Clark
$3.50


O Perfect Love

– Joseph Barnby (1838-1896) arr. Jon Clark
$3.50


Offertorium

– Anton Bruckner (1824-1896) arr. Jon Clark
$3.50


Pachelbel Canon

– Johann Pachelbel (1653-1706) arr. Jon Clark
$3.50


Prelude to Te Deum

– Marc-Antoine Charpentier (1643-1704) arr. Jon Clark
$3.50


Rhosymedre

– Ralph Vaughn Williams (1872-1958) arr. Jon Clark
$4.00


The Heavens Declare (Psalm XIX)

– Benedetto Marcello (1686-1739) arr. Jon Clark
$3.50


Trumpet Tune (Fischer)

– Johann K.F. Fischer (1665-1746) arr. Jon Clark
$3.50


Trumpet Tune (Purcell)

– Henry Purcell (1659-1695) arr. Jon Clark
$3.50


Trumpet Voluntary (Prince of Denmark's March)

– Jeremiah Clarke (1674-1707) arr. Jon Clark
$3.50


"U" Fanfare (2017)

– Jon Clark
$3.50


Voluntary (Stanley)

– John Stanley (1713-1786) arr. Jon Clark
$4.00